What Can Go In A Dumpster?
A roll-off dumpster is a reliable means to discard substantial amounts of debris. Unlike plastic bags, dumpsters can hold tons of trash due to their sturdy material. While a typical container can accommodate almost everything, there are waste types regulated and controlled by local and federal laws. And this means that consumers should understand the regulations on what can go in a dumpster. 
Furthermore, the size can determine the type of debris you can load into the container. For instance, you can only use some roll-off sizes for concrete or other dense waste.  
Knowing the stuff you can and can't put in a dumpster can influence the cost of your roll-off container. This article guide is to help you understand the things that can go in a roll-off dumpster.   
What can go in a dumpster?
Whether using a dumpster for a residential cleanout, landscaping, or construction projects, it is crucial to know the acceptable and prohibited junk of what can go in a roll off dumpster. The thumb rule is to avoid putting hazardous and toxic debris into the dumpster. Below are some of the items you can put in the dumpster.
Random household junk
Do you have some random junk to dispose of at home? Or perhaps you're planning to downsize and need to eliminate the trash. General home junk is acceptable in a roll-off, which is why many homeowners rely on dumpsters to tackle major home cleanouts. The household junk that can go in a dumpster includes tables, chairs, carpet material, cardboard, plastics, scrap metals, books, newspapers, clothes, toys, etc. Noteworthy, it is an excellent idea to recycle household junk instead of trashing things in good condition. You can check if your hauler has an option for recycling items, or you can collect most of your household junk and sell it. 
Yard debris
If you're planning to clean up the yard or do a major landscaping project, you can get a bin for the yard debris. Green waste is biodegradable and safe to put in a roll-off. You can put logs, branches, bushes, roots, dirt, rocks, grass clippings, leaves, and dead plants.
Remodeling waste
Many remodeling project types rely on a roll-off dumpster to remove debris from the site. You'll find a roll-off dumpster helpful when tackling residential or rental remodeling projects. Whether upgrading the bath, kitchen, basement, roof, or entire property, you can toss a majority of remodeling waste in a dumpster. You can dispose of things like tiles, old cabinets, drywall, tub, old sinks, shingles, lumber, siding, countertops, vanity, and plaster. Additionally, flooring material like carpets can go in a roll-off dumpster.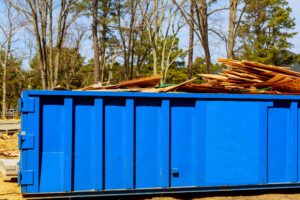 Construction waste
Construction trash also can go in a roll-off dumpster. Understandably, construction projects can be taxing, and construction dumpsters provide the easiest and safest disposal option. If you've got a construction project, you can put garbage like concrete, asphalt, wood, shingles, metal scrap, siding, plastics, and cardboard waste in a roll-off dumpster. 
Office junk
Office clutter can be in a roll-off container, too. So if you're cleaning up your home or a cooperate office, you can get a dumpster to collect the office junk. Some acceptable office junk includes old furniture, papers, plastics, newspapers, cardboard, and electronics.
What can't go in a dumpster?
Knowing what can't go in a dumpster is as important as knowing what can go in a dumpster. Human and environmental safety are reasons why you can't put some household and construction junk in a dumpster. For instance, highly flammable substances, like oil and paint, can place the container at risk of catching fire. Highly-corrosive and explosive materials can damage the container, risk workers' safety, and damage the environment. 
In this regard, you can't put any corrosive, flammable, and reactive materials in a dumpster. Your best bet is to ask your dumpster hauler for options. 
Rio Grande Waste Services is your caring hauler, providing exceptional roll-off dumpster services.