Roll-Off Rental in Westway, TX
Removing residential and construction trash in Westway is easier now than ever. Rio Grande Waste Services provides straightforward and dependable dumpster services in Westway. 
Whether you need a receptacle for clutter, demolition trash, or construction debris, we're happy to simplify waste management.
Our services include delivering and picking up the dumpster. We offer streamlined roll-off dumpster rentals, ensuring your job site is always garbage-free. 
Rio Grande Waste Services has two-sized dumpsters, the 15 and 30-cubic yards. Whether spring cleaning or upgrading your property, we have the availability to accommodate your unique situation.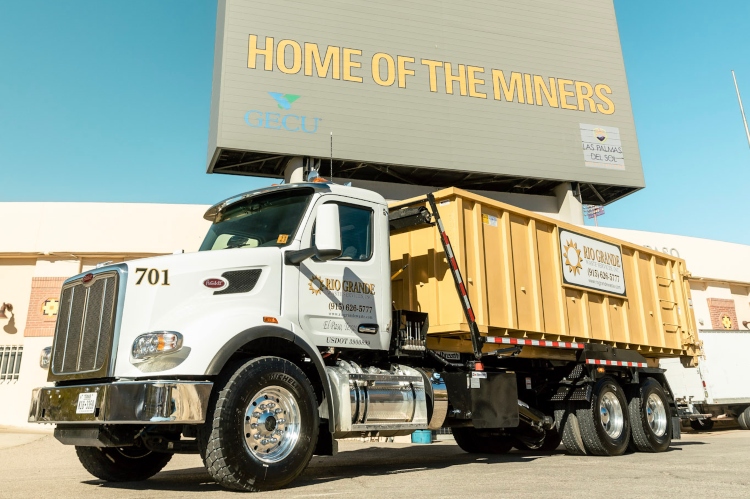 Westway Dumpster Rental Sizes
Professional and Reliable Customer Support
If you're looking for an award-winning dumpster service, you've come to the right place. We offer maximum support to our customers from start to finish. With years of working directly with the community, we know the best strategy for all projects, big or small.
Our customer support is available on call, and you'll speak directly with a real person. Forget about automated responses and emails; we'll chat with you. Work with a Westway dumpster rental that cares about your needs.
Our sales support offers personalized responses whether you're looking for a free estimate or ready to rent a dumpster. Why waste your precious time with a business that doesn't care about your waste needs? Contact Rio Grande Waste Services for the top of line customer services.
Easy Way to Rent A Roll-Off for Home Remodels
Home remodeling can be overwhelming, especially when it comes to cleaning out debris. We have a solution for remodeling debris! Request our 15-cubic yard container to handle minor home overhauls.
It is the ultimate bin for flooring material, concrete, siding, tiles, stones, and other heavy debris. We have simple requirements to rent a dumpster; we need to know your project, location, and the duration you need to rent the container. 
Best for Commercial Dumpsters in Westway, Texas
Are you planning a new construction within the Westway area? Having a local Westway dumpster rental is vital for convenience and reliability. We have enough container units to accommodate any size of demolition or construction waste. 
We call Texas home, making our waste management service super accessible. Whether you need a dumpster on short notice or are planning for future projects, Rio Grande Waste Services is trustworthy and can deliver beyond expectations. We find our 30-cubic yard dumpster the best for large-scale construction, demolition, or landscaping projects.
Why Spend Money on A Roll-Off Dumpster?
You have a minor house job or plan to empty the basement; why rent a dumpster? Many people consider roll-off dumpsters to be helpful only on construction sites. On the contrary, they're handy when you have extensive residential or commercial waste. 
One advantage of renting our trash dumpsters is it simplifies waste recycling and disposal. Get a space to put all the house junk, demolition, yard, or construction garbage while working on your project. A dumpster ensures you do the two jobs in one, saving you time and money. 
Another reason is that a dumpster is cheaper than using your truck to dump the garbage. We can negotiate the best disposal rates; you don't have to worry about gas money. Furthermore, we make long trips to the transfer facility so you can sit back and relax. Don't trouble yourself with multiple trips to the landfill; call our crew. 
A roll-off container also reduces the risk of site accidents. Why risk shoulder injuries or breaking your ankle due to a messy worksite? Dumpsters provide a designated space to put all trash and keep the site free from tripping hazards. 
Do you need an easy way to eliminate unwanted residential junk? Roll-off dumpsters are it! Don't wait for ages to get an overpriced container. Rio Grande Waste Services accommodates small and extensive construction or home jobs.
No Guesswork With Dumpster Pricing
We make it straightforward to know the roll-off dumpster estimate. We can create a free estimate with zero obligations on your part. Several things can affect the overall cost of the dumpster.
The first thing is the dumpster size. We supply two roll-off types, the 15 and 30-yarders, and their prices vary. Typically, you'll need the smaller bin for minor home or construction projects, and the cost is higher for bigger dumpsters and vice versa.
Another thing determining the dumpster cost is the trash weight. Dumpster rental companies pay a certain fee per ton to dispose of the waste, and we factor this tonnage fee into the overall cost of the container.
The dumpster rental period is another pricing parameter, and we consider the total days you need to keep the dumpster. Customize the optimum rental period that fits your project needs. 
Furthermore, we include the roll-off dumpster delivery and pick-up cost in your initial quote! With our flat-rate price, you'll never have to guess the cost or deal with surprise fees.