Roll-Off Rentals in Socorro, Arizona
When you need to hire a dumpster in Socorro, there is only one company to rely on: Rio Grande Waste Services. With our 15 or 30-yard container, nothing can stop you from achieving your project goals. Are you planning to update your kitchen floors? Who knows, you might find a stash of rare coins beneath your old floor! 
Doing home renovations can be the best decision, whether minor or major. You get to enjoy a new space, ultra-modern design, and a luxe home to come to every day. Whatever the reasons are for your private property renovations, we're here for one thing, which is to remove and dispose of debris. 
The Rio Grande Waste Services team, from top management to the junior level, has years of combined experience supplying dumpsters in Socorro and beyond. Give us your business and the opportunity to show you what decades of first-hand experience can do to your project. Whether you've got a job to complete today or are planning ahead, we've got the right options and room to service your job site. We are the top Socorro dumpster rental for many reasons.
First, we have two dumpster size options for you; the 15 and 30-cubic yard roll-off containers. Need a bin for a small demo? 
The 15-cubic yard container will do. Planning a home addition job? We'll bring the 30-cubic yard dumpster to your doorstep. Another thing is that we offer short and long-term rental periods. We know that projects are different and strive to accommodate as much as possible. With that said, if you need same-day Socorro dumpster rental, we're ready to help.
Importantly is our friendly and customer-oriented staff with decades of experience. We're committed to providing wallet-friendly dumpster services to our Socorro community, whether to an individual, a company, or an organization. Where do you start when renting a dumpster? Call Rio Grande Services whether you know the dumpster size you need or not. 
Saving You Money on Dumpster Rental Services
If your ultimate goal is to score huge dumpster savings, you've come to the right Socorro dumpster rental. We help hundreds of homeowners and businesses benefit from our low-cost roll-off dumpster rentals for short- or long-term projects. Renting a dumpster is cost-effecting; getting a trustworthy company can help you cut down rental costs further. 
We provide containers on time to keep your construction site or residential project running smoothly. Are you decluttering or renovating corporate offices? We work with renovation specialists, property managers, and general contractors to provide reliable and wallet-friendly receptacles. 
Dumpster overage fees can be stressful. We offer transparent base pay upfront, ensuring you complete your project according to plan and budget. The initial price tag is the final cost; there are no delivery fees, pick-up, or environmental costs since those are covered in your initial flat-rate fee. 
Our services are hassle and stress-free, and we can bring the bin to any commercial or residential property. Do you need to request a dumpster for two weeks? Awesome! We offer flexible rentals, including emergencies, without any extra costs.
Household and Construction Waste Disposal in Soccorro
Are you ready for spring cleaning or have construction garbage to eliminate? Point us to the trash, and we'll dispatch a suitable dumpster size to haul the junk. The process is straightforward if you're new to renting a roll-off container.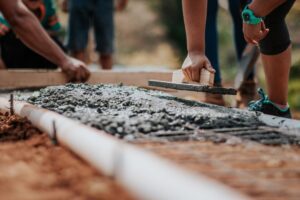 As the leading and top-choice Socorro dumpster rental, we move our dumpsters to your job location. The bins are clean, and you don't have to worry about them sitting on your driveway.

A crucial thing to know when renting a dumpster for household and construction debris disposal is prohibited junk. Once we roll away the container, you're at liberty to start offloading all the demo waste, construction trash, or your household junk. What dumpster size to order? Contact us, and our friendly customer service rep will help you.
Why Rio Grande Waste Services?
We're headquartered right in the heart of El Paso and have the means to serve other closest areas, including Socorro, New Mexico. This means we can provide next-day dumpster rental services for your project. We're responsive, and we can provide reliable options regardless of how tight your schedule is.
We have the best prices for the 15 or 30-cubic yards dumpster. Get top-tier customer service whether you need residential or commercial waste services. As a local Socorro dumpster rental, we can customize the best rental schedule to fit your project.
Do you need to eliminate 2,400 sq feet of shingles? We can stage the 15-cubic yards dumpster right below the roof line or any place convenient for you. Ready for estate cleanout? Get the roll-off container size recommendation that's right on.