Construction Dumpster Rentals for El Paso and Doña Ana Counties
There are tons of things to handle when it comes to construction sites, and you must always ensure a safe working environment. Renting a dumpster for construction sites provides essential waste removal services for small and large-scale construction sites, and this service is also crucial for demolition, remodeling projects, and road works.
Create a central waste collection point to streamline and organize your construction site. Rio Grande Waste Services serves construction sites throughout El Paso and Doña Ana Counties with flexible rental timeframes and dumpster sizes to fit every need. Why haul the construction waste to the landfill yourself when there's a crew providing shifting drop-off and pick-up services?
How do I know the dumpster size I need?
If you've got a construction site to clean up and organize, you need the right dumpster size. Rio Grande Waste Services provides a selection of roll-off sizes to accommodate big and small projects. Choosing the right construction dumpster size can be pretty straightforward.
First, you must understand the dumpster's volume and estimate the debris you anticipate producing. Construction dumpster sizes are measured in cubic yards, which equals the amount of trash it can hold. At Rio Grande Waste Services, we offer two types of construction dumpsters; 15 and 30-cubic yard dumpsters. The 15-cubic yard container is an excellent choice for small and medium remodeling and construction jobs. For instance, you use this container for driveway installation or roofing projects. 
As the premier roll off rental company, we strive to simplify your rental process. We're standing by if you need guidance on the best construction dumpster size, and the right size can be a cost and time-saver.
When to rent construction dumpsters?
Let me guess; you're wondering when to rent a construction dumpster rental. There are many purposes of a construction dumpster rental. Are you tackling a new home construction? This is one of the reasons to order a construction roll-off container. Have you got building additions, renovations, roofing, or siding replacement? These construction dumpster rentals can accommodate tons of residential and commercial construction works.
Whether cleaning the gutters, window replacement, masonry work, or tackling a garage, outbuildings, or basement projects, construction dumpsters make it a breeze to remove the junk. Get a tailored solution that matches the exact project you're working on, residential or commercial. We constantly evaluate our client's waste needs before crafting an efficient, reliable, cost-effective disposal plan.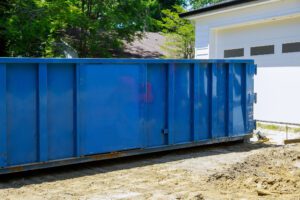 Why rent construction dumpster rentals?
The number one reason renting a dumpster is a must is safety. Whether you're a mason, roofer, general contractor, or homeowner, your and others' safety and environmental protection are a priority. Roll off rentals are the most reliable way to manage waste on a worksite. Putting the debris in a central spot reduces the risk of tripping or injuries from sharp tools on your construction site. Loading the debris into dumpsters on the go ensures that your work area is safe for everyone.
Renting a roll off for your construction project creates a neat, organized, and professional work site. Many people, like homeowners, inspection officials, architects, and realtors, might visit your site; the last thing you need to see is a messy and hazardous job site. Construction dumpsters keep everything organized and professional.
Another advantage of construction dumpster rentals is efficiency. It is vital to put all the nail-studded wood, concrete, shingles, and scrap metals in a dumpster to improve efficiency. It makes it easy peasy for your employees to move freely without worrying about accidents. Furthermore, you don't have to maneuver the tedious construction waste disposal process when you use a construction dumpster. In the long overhaul, dumpsters simplify things that would otherwise be costly and stressful. 
Ready to rent a dumpster? Rio Grande Waste Services is a call away!