Roll-Off Dumpster Rental Berino, NM
Rio Grande Waste Services is the top-rated Berino dumpster rental providing cutting-edge waste solutions. With your project goals in mind, we go beyond your expectations to provide essential waste management services. If you're remodeling and notice that the debris is getting out of hand, it is time for a more sophisticated yet seamless solution.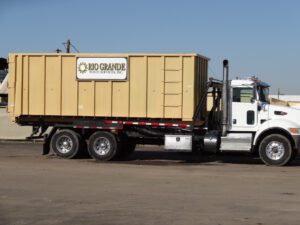 Thanks to our various residential and commercial waste services, homeowners, contractors, and business owners like you can be confident of getting exceptional services. Save money with our less-costly reliable roll-off containers ranging from 15 to 30-cubic yards in size. 
We understand that when you search for Berino dumpster rental near me on Google, you get many offers on the internet. But the question is, does the offer match your needs? Is it the right dumpster size? Are you getting the biggest bang for the buck? At Rio Grande Waste Services, we look at the bigger picture, prioritize your needs and consider your budget.
Why spend hours on end calling dozens of businesses when we can speedily move things? Typically, we strive to provide service on a needed basis, which means you can lock a dumpster service for the next day's project. 
How Much Does A 15- Yard Dumpster Cost?
Discussing the dumpster rates is essential when renting a dumpster, and this sets you up with real-time market rates and can help you create your waste disposal estimate. Rio Grande Waste Services deals with various container sizes, including 15-cubic yards. This container is famous for spring cleaning, attic and basement decluttering, and kitchen, bathroom, and roof renovations. 
Regarding the cost of renting a 15 cubic yard dumpster in Berino, we factor in many things. We include your rental length, location, debris weight, and delivery to create a flat-rate fee unique to your project. The same pricing strategy applies if you opt for the 30-cubic yard container. However, the size is bigger than the 15-yarder, which means it'll carry more debris to dispose of, affecting the cost. We suggest you reach out to our customer care team for turnkey solutions.
Best Berino Dumpster Rental For Contractors
Contractors can be busy bees! Keep your Berino projects moving with dependable and trustworthy dumpster rental. We offer exceptional waste management for restoration jobs, roofing, demolition, landscaping, and construction projects that support green buildings. Whether you're fixing an entire home, adding rooms, handling plumbing, roofing, or landscaping, Rio Grande Waste Services is the number one partner for contractors. 
We can handle heavy asphalt, concrete, drywall, wood, shingles, and metals. Get deal packages that fit your unique jobs, and never worry about your junk.
Custom Residential Dumpster Rental Service
Residential roll-off dumpsters are available to rent here at Rio Grande Waste Services. We provide efficient services for DIY remodeling pros, people moving, and household cleanout projects. Our roll-off dumpsters facilitate a clean and safe remodeling space putting you, your pets, and your family's safety first. Additionally, trash containers ensure a hassle-free process of reoccupying your home after cleanout or remodeling. 
Have you got bigger junk like furniture, cabinetry, and carpeting material? Don't worry! Our 15-cubic yard container is big enough to accommodate huge residential debris. Whether you have a ratty sofa, drywall, torn carpet, or flooring waste, let us help you consolidate your residential waste disposal with affordable dumpster rentals. You can have the container the same day you need it or when you're ready to start your renovation. 
Getting a quote for Berino dumpster rental has never been this hassle-free. We're excited to tailor-make a residential dumpster rental service for you. We've got you covered when you need help with commercial or residential solid waste. Contact us for easy booking.
Doña Ana County
Chamberino

Doña Ana

Fairacres
Garfield
Hatch

La Mesa

La Union

Mesilla
Mesquite
Radium Springs
Rincon
Rodey
Salem

San Miguel

San Pablo

San Ysidro

Sunland Park

University Park