White Sands Dumpster Rental
Roll-Off Rental White Sands, NM
Are you in White Sands and have some construction/demolition waste or home junk? Rio Grande Waste Services can haul it away at a small cost. We offer top-tier and unrivaled dumpster rental services and customer support. As the White Sands dumpster rental, we cater to the waste needs of homeowners, contractors, businesses, and construction companies.
For instance, cleaning out the attic, you can expect to find unwanted junk, old items with no value, and other knickknacks. Disposing of those things you can't donate, sell, or keep is easy when you rent a dumpster. You can do the same thing when you upgrade your home. A kitchen remodeling, for instance, can produce old cabinets, shelves, flooring material, drywall, sinks, wiring, and plumbing waste.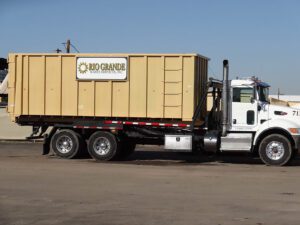 Our simple, reliable, and affordable dumpster rental services can simplify any job, big or small. Don't wait for the debris to pile up in the yard before requesting your roll-off. It can be pretty stressful and back-breaking to deal with tons of dense trash. We can place the roll-off at a convenient spot where you can put the debris on the fly. You'll not have to return and pick up trash after finishing your project.
Our White Sands dumpster rental services include flexible and generous time frames to accommodate your needs. Explore your options with our friendly customer support and get this off your to-do list. We can customize the same or next-day roll-off dumpster rentals.
Dumpster Sizes For Rent in White Sands
Our focus here at Rio Grande Waste Services is to find a solution for you no matter the size of your house junk, inert, or yard waste. We provide industry-standard roll-off containers for residential and commercial jobs. Below are our dumpster sizes for rent in White Sands.
Are you planning to do small or medium clean-ups in White Sands? We offer convenient and economical 15-cubic yard dumpsters for small and medium projects. This size is the top choice for home garage cleanouts, basement renovations, medium bathroom, and kitchen renovations. It can hold three tonnes plus construction waste or yard debris, so you can be confident to dispose of several tons of garbage. 
This is the best dumpster size for you if you've got heavy materials, deck demolitions, or moderate roof remodeling. Get this dumpster for construction, cleanouts, and outdoor projects. We accept heavy debris like bricks, shingles, asphalt, concrete, and yard debris. Whether you run a remodeling company or are an independent contractor needing services in White Sands, we've got the right option.
Renting a 30-cubic yard dumpster for extensive projects in White Sands is easier than ever. This roll-off size can help remove waste from large home additions, multi-family home cleanouts, demolition jobs, and roofing and landscaping endeavors. Extensive construction and residential renovations come with equal pressure and time constraints, and we take the refuse baggage off your shoulders with this big container. Our crew can deliver on any site in White Sands.
Best and Affordable White Sands Dumpster Rental
Rio Grande Waste Services is the number #1 shop for low-cost dumpsters in White Sands. We've got decades of job experience serving the community in New Mexico and beyond. We understand your job needs and strive to exceed your expectations. Do you need to review a quote for our 15-cubic yard? No problem! 
Our customer support can provide a quick obligation-free estimate, and Upfront pricing can help you know the total waste disposal estimate beforehand. Don't wait for weeks for your roll-off dumpster to arrive. Get on a call with us to set up flexible schedules. Whether you're a weekend clean-up warrior or landscaper, you will love our services.
Doña Ana County
Chamberino

Doña Ana

Fairacres
Garfield
Hatch

La Mesa

La Union

Mesilla
Mesquite
Radium Springs
Rincon
Rodey
Salem

San Miguel

San Pablo

San Ysidro

Sunland Park

University Park