Let's cut to the chase; You need a Vado dumpster rental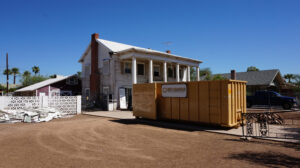 . If you've got a garage renovation or general home cleanout, you'll appreciate the efficiency and speedy services that come with renting a dumpster. Rio Grande Waste Services is the company you should look for when you need to hire a Vado dumpster rental. What sets us apart is the years of service delivery focusing on residential, commercial, and building projects.
We specialize in and provide 15 and 30-cubic yard receptacles for medium and large-scale remodelings, house junk, office cleanout, construction, landscaping, and much more. Unlike others, we charge pocket-friendly fees, and never will you have to deal with surprise charges. 
Our personable, courteous, and skilled customer support staff is what you need when dealing with stressful, demanding, and back-breaking projects. They're knowledgeable and ready to help our customers find the best waste management solutions.
Importantly, Rio Grande Waste Services adheres strictly to local provisions on waste management, ensuring that we utilize eco-friendly disposal options. 
Do you have several properties that need a deep cleaning? We service the real estate, offices, and commercial businesses that need junk removal services in Vado. Whether you seek to recent a weekend, weekly or bi-weekly dumpster, we can deliver dumpster service when and how you need it. 
Dependable Waste Management System in Vado, NM
Nothing pains more than getting ripped off on dumpster rental prices and the service. Sadly, you can pay outrageous fees for below-the-bar waste services if you hire just anyone disguised as a dumpster rental in the street. You'll have a positive experience here at Rio Grande Waste Services. Making our customers happy is our highest priority; we strive to save you time during the rental process. 
We take dumpster requests online, and no need to wait unreasonable days to receive your container. With responsive live support on the other end, you can be confident of getting a dependable solution fast. We usually get the containers the same or the next day after scheduling. Our labor-saving waste process ensures that you use the shortest time possible to eliminate heaps of construction or demolition debris.
Keep your residential property, construction, or landscape clean by ordering the right roll-off container. 
Roll-Off Dumpster For All Jobs And Projects
We are the best place for all waste needs in the Vado and greater New Mexico area. From kitchen remodeling, home cleanout, roofing, construction, demolition, and yard work, to commercial and industrial waste disposal, we tackle all jobs efficiently.
We carry medium and large dumpster sizes to fit jobs on both spectra. When you need to discard less than 20 cubic yards of debris, you can take our 15 cubic yard container. Got more garbage? Our 30 cubic yards container is sure to hold sizeable junk or construction waste. 
Remember, no two waste disposal jobs are the same, which is why Vado dumpster rental prices vary. Thankfully, we specialize in custom services, which means your job gets the total attention it deserves and great prices that match it. Please don't fret about hidden fees because we only invoice genuine services rendered.
Things To Do After Booking Your Dumpster Rental
Have you picked the container size yet? If yes, your job is to create a sturdy space on the site to drop off the container. There is nothing much to do if you've got plenty of clear space. However, if you intend to use the street, you might consider looking into dumpster permits. Our sales rep team can help you better understand this and what you need.
Hit the ground running once you get the container, and give us a call if you need anything or are ready for the trash to go.
Doña Ana County
Chamberino

Doña Ana

Fairacres
Garfield
Hatch

La Mesa

La Union

Mesilla
Mesquite
Radium Springs
Rincon
Rodey
Salem

San Miguel

San Pablo

San Ysidro

Sunland Park

University Park