Chaparral Dumpster Rental
Roll-Off Dumpster Rental Chaparral, NM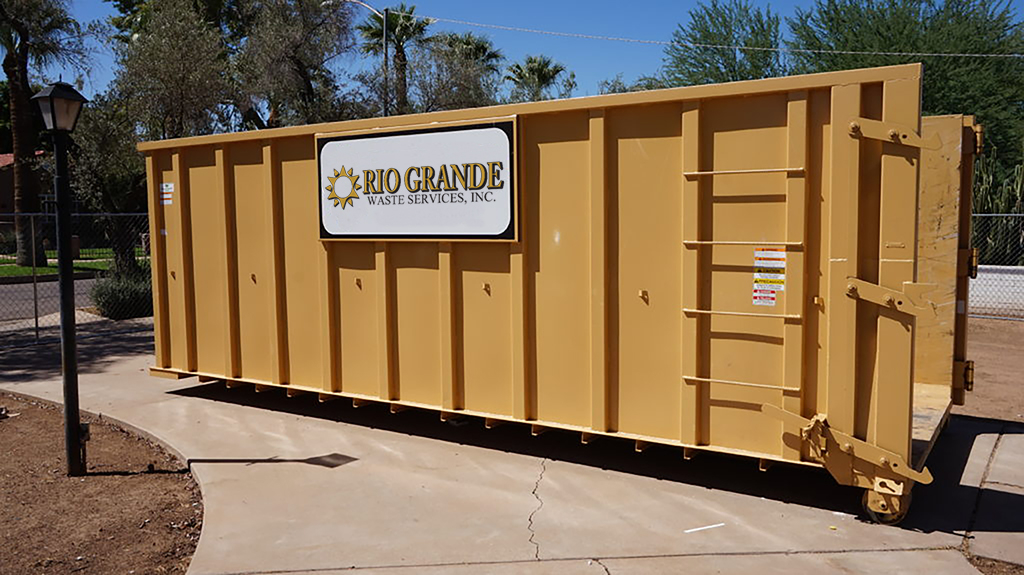 Are you thinking about renting a temporary dumpster? The best way to handle enormous amounts of residential or construction debris is to rent a dumpster. And that is where your Chaparral dumpster rental can help. Rio Grande Waste Services specializes in 15 and 30-cubic yards dumpsters, which are ideal roll-offs for small, medium, and extensive projects.
Whether you're up against a bathroom remodeling or roofing project, we have the right tools to make it seamless and achievable. Having an eco-friendly company move your garbage can be a stress reliever. Your refuse will be in the right place, protecting our planet from toxic inert debris.
As the leading dumpster company in Chaparral, we understand that prices can make or break a deal. We charge reasonable fees for quality services. Our ultimate goal is to provide waste hauling services tailored to our customer's unique needs. If you need a 15-cubic yard roll-off, we'll create a flat-rate price for that size, your location, the debris you will load in, rental time, taxes, drop off and pick up. Importantly, we personalize service delivery here at Rio Grande Waste Services, and calling us can help you get an accurate free quote. Our personable support team is standing by to take up your project.
Straightforward Process to Rent A Dumpster in Chaparral
Collecting and disposing of debris can be labor-intensive, tedious, and expensive. However, using a dumpster rental can be the easiest and cheapest option for you. So, where can you get a Chaparral dumpster rental?
To make your rental easy, you need to plan. Contact your Chaparral dumpster rental a week or so in advance to guarantee your dumpster availability. An early reservation is crucial, especially during the busy summer and spring months. However, here at Rio Grande Waste Services, we understand that things can happen in the spur of the moment and need emergency services. 
Get your dumpster rental quotes from the pros. It can be draining calling one business after another, hoping to get an affordable dumpster rental price. We make this painless for you, and it takes a short time to get a custom estimate. Whether your ideal container is our 15 or 30-cubic yarder, we're confident that our fees are the lowest you can get.
Happy about the estimate? Lock in your dumpster rental and prepare for our delivery crew to drop by with the roll-off. Ensure you have an accessible and obstruction-free spot to place your container. Our specialist can help you designate an area with no cars, overhanging trees, or powerlines for hassle-free drop-off.
Once you're all set and ready to get your demolition or construction off the construction, it is essential to use the roll-off for the proper purposes. Some waste like paints and other highly-flammable materials don't belong in the dumpster. 
You contact a local Chaparral dumpster rental, get the free quote, sign up for the dumpster, and gain and fill it up with waste. Then, we'll handle the rest of the job: hauling to the transfer facility, recycling, and helping you minimize your carbon footprint.
The Qualified and Experienced Waste Service Team
If you're looking for a dumpster crew that brings joy in a rather stressful environment, you've found them. The Rio Grande Waste Services feature a customer-oriented, motivated, and personable team to help you. Our happy customers are why we're in business and will go beyond to outdo ourselves. 
Whether you need help with commercial waste, office junk, residential, or construction refuse, we're ready to roll up our sleeves, get to work and face the garbage head-on. 
Doña Ana County
Chamberino

Doña Ana

Fairacres
Garfield
Hatch

La Mesa

La Union

Mesilla
Mesquite
Radium Springs
Rincon
Rodey
Salem

San Miguel

San Pablo

San Ysidro

Sunland Park

University Park